Residential & Commercial Flooring Professionals - "In everything set an example by doing what is good" Titus 2:7
Resilient flooring has come a long way in recent years, and if you're a homeowner or business owner who's searching for a durable flooring option, durable vinyl may be the right choice for you. At Mountain Valley Floors in Loveland, we have more than 25 years of experience in the flooring industry and we'd love to help you! Our company partners with industry-leading vendors and we have professionally trained vinyl flooring installers in order to deliver the floor of your dreams. Call us at (970) 685-4763 today to request your free consultation!
Benefits of Vinyl Flooring
Resilient flooring carries many advantages over other types of flooring, and if you're considering vinyl flooring for your home or office, you can enjoy to following benefits:
Affordable. High-end vinyl flooring costs less than other premium flooring materials such as wood and stone.
Durable. When properly installed and maintained, durable vinyl can last as long as 10 to 20 years. It is also resistant to stains.
Noise reduction and comfort. Because of the materials vinyl is made out of, it is softer underfoot and is helpful with reducing ambient noise in a space.
Low maintenance. This flooring option is incredibly easy to maintain and frequently only requires a damp mop for routine cleaning.
Design options. There are a wide variety of materials, styles, and colors to choose from in vinyl to customize your space.
These are just a few benefits you can expect from resilient flooring. If you have specific questions about this type of flooring, our staff will gladly speak with you to provide additional information.
Types of Resilient Vinyl
As with other durable flooring options, there are several types of vinyl flooring available for homeowners and business owners, including:
Plank. Designed to give your room the appearance of hardwood at a fraction of the cost, plank vinyl is an excellent choice for residential or commercial spaces.
Tile. If you prefer the look of a stone or tile floor but are concerned about affordability, vinyl tile flooring provides a cost-effective alternative.
Sheet. Manufactured and sold in six- to 12-foot wide rolls, sheet vinyl flooring reduces the number of seams and is great for high-moisture areas like kitchens and bathrooms.
If you're unsure which type of resilient flooring is best for your intended space, our vinyl flooring installers and designers are here to help you every step of the way!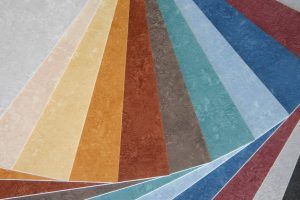 Care and Maintenance
Cleaning and caring for resilient flooring is easy following a few simple maintenance tasks on a routine basis:
Clean up spills as soon as possible.
Sweep or dust mop daily (or as often as possible) to remove dirt, dust, and debris.
Gently clean the flooring with a damp mop and a mild, non-abrasive cleaner when needed.
Use mats and rugs to prevent scratching and sun fading.
If you'd like to get started on your new vinyl flooring project, contact our team at (970) 685-4763 or schedule your consultation online today!
Schedule a FREE Comprehensive Consultation with Top Rated Local® Resilient Flooring Experts
Schedule a FREE Comprehensive Consultation with Top Rated Local® Northern Colorado Interior Design & Flooring Experts