Residential & Commercial Flooring Professionals - "In everything set an example by doing what is good" Titus 2:7
If you are a Loveland homeowner or business owner who is looking for high-quality tile flooring materials and installation, look no further than Mountain Valley Floors in Loveland! For more than 25 years, we have provided the Front Range with expert installation of tile flooring from the industry's top vendors, and we would love to help you with your new flooring project. To request your free consultation, call us at (970) 685-4763 today!
What Types of Tile are Available?
Whether you're shopping for tile for your office entry or your home kitchen, bathroom, or mudroom, we are sure to have what you're looking for. In recent years, tile has made a big comeback, and with a wide range of colors, patterns, and styles to choose from, the design options are virtually endless! In addition to standard ceramic and porcelain tiles, there are a wide variety of tiles that will complement any home or office, including:
Travertine
Wood-look
Slate
Marble
Granite
Onyx
Quartzite
Pebbles and stones
And more!
If there is a specific tile you have in mind, we can help you find it. If for some reason, it is not readily available, you can count on our knowledgeable consultants to find the next best thing.
Why Choose Tile?
If you've been on the fence between tile and other flooring materials, you might be curious about the benefits of tile floors. There are many, including:

Affordability. Tile costs less per square foot than other long-lasting durable flooring materials.
Versatility. Tile can be installed in any room of your home, on any level, indoors or outdoors.
Design options. With the wide variety of shapes, patterns, textures, colors, and styles, you can completely customize any room.
Cleanliness. Tile is incredibly easy to clean and doesn't easily harbor dust, dirt, bacteria, or mold.
Low maintenance. There is no flooring option that's easier to clean than tile floors.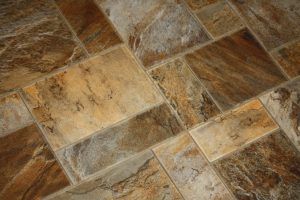 Care and Maintenance
Depending on what type of tile you choose for your floor, care and maintenance routines may vary. However, for the vast variety of tiles, it is very easy to keep them looking great by following a few simple tips:
Sweep or vacuum on a regular basis to remove dust, dirt, and debris.
Clean with water and a very mild detergent when needed.
Clean grout gently, resealing it when necessary.
If you'd like to get started on your new tile flooring project, contact our team at (970) 685-4763 or schedule your consultation online today!
Schedule a FREE Comprehensive Consultation with Top Rated Local® Tile Floor Experts
Schedule a FREE Comprehensive Consultation with Top Rated Local® Northern Colorado Interior Design & Flooring Experts