Residential & Commercial Flooring Professionals - "In everything set an example by doing what is good" Titus 2:7
If you are a Northern Colorado resident who is looking for an affordable and attractive way to add some character the walls in your home, tile is a durable option that never goes out of style. In fact, there are virtually endless possibilities when it comes to incorporating this functional wall covering in your home. To learn more about wall tile products and installation, call our team at (970) 685-4763 today!
Types of Wall Tiles
Regardless of what room you want to install wall tiles in, if you have a specific design in mind, we have a style in our inventory that will suit your needs. Whether you are looking for a classic square tile design or a more decorative hexagon- or octagon-shaped tile, wall tiles are available in various materials, including:
Ceramic and porcelain
Glass and metal
Limestone, slate, and quarry
Granite and marble
And more!
Wondering if we carry a specific type of tile? Because we partner with several of the industry's top tile vendors, we likely have it in stock. If for some reason we don't, we'll work with you to find a comparable style of tile.
Why Choose Tile for Walls?
If you are undecided on whether or not to install wall tile in your bathroom, kitchen, laundry room, or other rooms, it might help to familiarize yourself with the benefits of this incredible product. Tile walls are desirable for many reasons, including:
Durability. Tile is naturally durable, making it an ideal wall covering choice in busy spaces.
Versatility. Design options are virtually endless with the wide variety of colors, styles, and materials to choose from.
Affordability. Tile costs very little per square foot and will retain its beauty longer than other wall coverings, like paint and wallpaper.
Low maintenance. Tile is incredibly easy to clean and is resistant to dirt, bacteria, mold, and staining.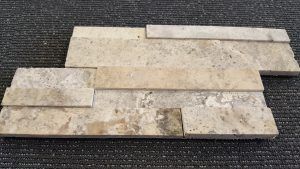 Not Just for Your Bathroom
When you think about tile walls, you may think about the shower walls in your bathroom. Tile is a natural choice for such a high-moisture area, but it is versatile enough to add beauty and elegance to other areas of your home as well. In the kitchen and laundry room, wall tiles create a functional backsplash to protect the drywall from water damage. In entryways and rooms with vaulted ceilings, tile wall installations can create a dramatic focal point that is sure to be a topic of conversation amongst guests for years to come.
As you can see, there are many reasons to choose tile for the walls in your home — not only is it functional, but it also adds an element of style that compliments any space. If you're ready to get started on your new wall tile project, contact the team at Mountain Valley Floors today. We'd love to speak with you about your material and design preferences to create the room you've been dreaming of. We look forward to speaking with you!
Schedule a FREE Comprehensive Consultation with Top Rated Local® Northern Colorado Interior Design & Flooring Experts